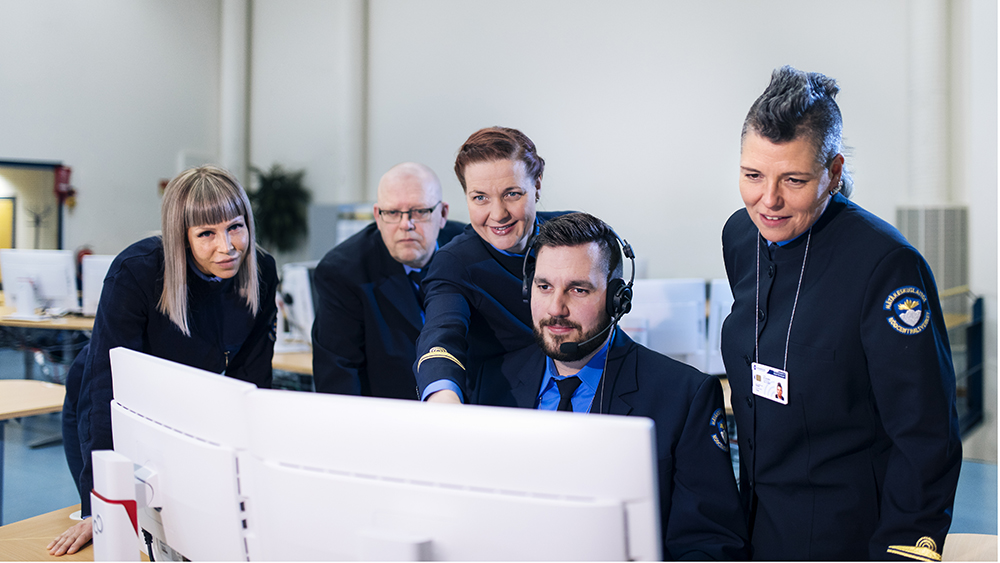 Organization
Organisation structure
The Emergency Response Centre Agency is one of the government agencies. The Agency consists of three departments: Administrative Department, Operational Department and Development Department. Executive Support, Communications and Legality Control operate under the command of the Director General. The six emergency response centres (in Kerava, Kuopio, Oulu, Pori, Turku and Vaasa) and the Command Centre together form the Operational Department.

High-quality, reliable and equal emergency response centre services for all are at the core of our strategy. You can read more about our strategy on the Agency's presentation page.
Responsibility and sustainability
As one of the key safety authorities, we want to take responsibility for providing emergency response centre services in Finland in a way that is as sustainable as possible – ecologically, economically, socially and culturally. Our goal is that the culture of responsibility and everyday operating models that support sustainable development are a natural part of our management and the operations of the entire Agency.
The framework of our first sustainability report is the United Nations (UN) Sustainable Development Agenda and its 17 goals. Of these goals, we have selected three where we can make a difference, at least indirectly, in emergency response centre operations and as an organisation:
Healthy lives and well-being for people of all ages
Reducing inequalities within and between countries
Sustainable consumption and production methods.
We are also committed to promoting sustainability, and we have published our own commitment to sustainability.
Equality and non-discrimination
As one of the government agencies, the Emergency Response Centre Agency is creating a Finland that is equal and safe for everyone, regardless of gender, identity or background. This is everyone's duty, every day.
One of the values included in our strategy is fairness. We serve our customers and each other fairly by respecting differences and diversity, acting equally in similar situations and ensuring that the principle of equal treatment is realised.
Our goal is to reach zero tolerance for all inappropriate treatment and harassment. In surveys on experiences of inappropriate treatment and harassment, we distinguish between cases experienced with customers and within the work community in order to find out how much harassment and inappropriate treatment occurs within the work community, and how much of it is experienced with customers.
We have drawn up an equality and non-discrimination plan for 2022–2023, which includes goals for developing equality and non-discrimination of personnel and services.
The development targets in the personnel side includes, among others: developing leadership and work community skills and appraisals, launching initiative activities, creating an e-manual describing emergency response centre operations, developing zero tolerance for harassment and inappropriate treatment, developing the transparency of the pay system and the employer image, securing human resources in all occupational groups, and developing the accessibility of offices.
The development targets in the services side includes: creating a technical and operational vision for emergency response centre operations, developing networked operations, establishing sign language services and developing the service level in Swedish.
Gender-sensitive communication
The Emergency Response Centre Agency has made a decision to activate gender-sensitive communication, the aim of which is to promote gender equality and prevent discrimination. We also promote gender-neutral language and communication appropriately so that we consider on a case-by-case basis whether the inclusion of gender in various contents is justified or not. The topics, images and words of the Agency's communications are selected consciously from the perspective of equality and non-discrimination.

Those who appear in public as representatives of the Agency are experts in their respective fields and part of the Agency's management. We aim to present a variety of people involved in the emergency response centre service in the images; 112 specialists of different ages, as well as of different genders. The images reflect the actual situation and are not intended to create a seeming diversity.